Available on the iTunes App
Store for $1.99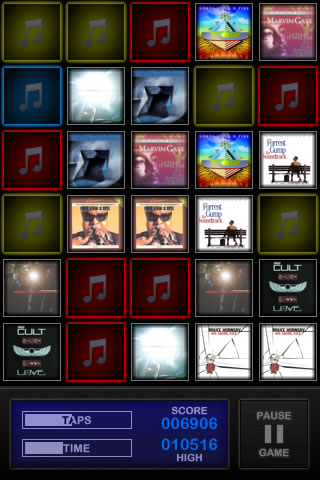 Album art is making a comeback from the days when buying an album was about more than just the music inside. Cover Match pays tribute to the artwork of musicians and the fans who love it with an exciting new game that will test your skills and keep you coming back for more.

Graphically mastered and engineered, this is no ordinary match game. You'll be pleasantly surprised with the crisp OpenGL graphics and special effects that accompany each level, and intrigued by the beauty and rich detail of your album art (on iPad, a custom fullscreen layout shows album art in even more fidelity). Using a classic arcade format, Cover Match starts off slow with just a few album covers to match, then heats up with unlimited levels of randomly sorted cover art. Cover Match literally offers "zillions" of game possibilities. No two games will ever be alike.

Hunter Research and Technology is proud to present this great game. If you are a music fan that appreciates album art or a gamer looking to discover a whole new side of your music, give Cover Match a try.
Screenshots
Details
Players can choose from "fun" and "scored" modes. Fun mode lets you play at your leisure with no limits, no timers, and no pressure. Scored mode tests your matching skills using a timer and tap counter. Points are awarded for matches, and a bonus is given for any time or taps leftover at the end of each level.

Other features include portrait and landscape play options and an extensive help section. The built-in soundtrack will keep you tapping, but Cover Match also lets iPod music play through so you can listen to your favorite tunes. If you need to interrupt a game for a phone call, Cover Match will automatically save your current progress and score. Finally, players can compete for high scores to win a place on the online Cover Match Top 25 list.

The more album art you have, the better Cover Match will be, but the game includes built-in album art to augment music collections with less than 24 albums.
Support
For support, please see the info/help section in Cover Match by tapping the "i" button on the game's title screen.
If you have an issue or question not addressed in help, contact:
Feedback, comments, and suggestions are welcome.
Demo Videos
Release Notes
Version 1.0 - 10/31/09
Initial public release
Version 1.1 - 4/1/10
Now a universal app, re-engineered for iPad
Version 1.2 - 7/7/10
Added multitasking support for iOS 4, re-enabled iTunes music shop within app
Buy Now
Cover Match is a Universal App. It runs on iPhones and
iPods with OS 3.1.3 or later, and iPads with OS 3.2 or later