About Kaleido
Getting Kaleido
Support / Contact Info
Release History
Home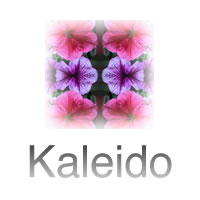 Kaleido is a highly optimized digital kaleidoscope for your iPhone or iPod Touch that uses OpenGL rendering for fast, responsive performance. You can take images from your photo library or directly from the iPhone's camera, and twirl them into an infinite number of symmetric patterns. Drag your finger on the touch screen to move the image focus point and zoom the scope. Shake the device to flip between four different mirror modes. Double-tap the screen to show/hide the toolbar. Press the play button to animate the kaleidoscope pattern into a super cool movie.

Kaleido can turn any image into an amazing work of art. When you have that perfect kaleidoscope pattern on the screen, save it to the photo library with the click of a button, where you can e-mail it, use it as wallpaper, or assign it to a contact in your address book.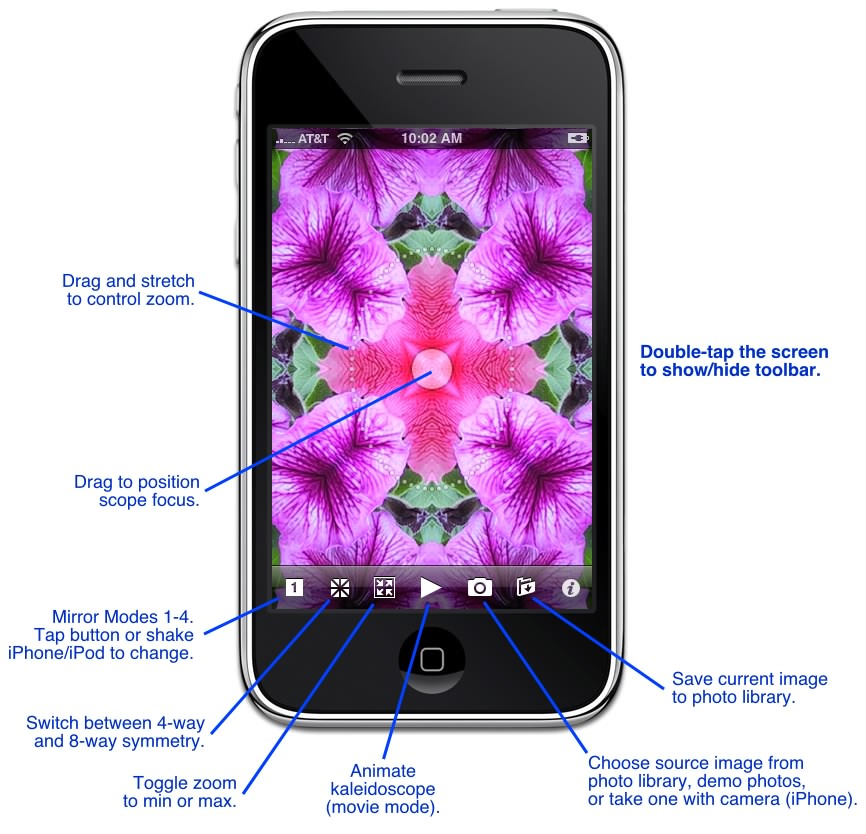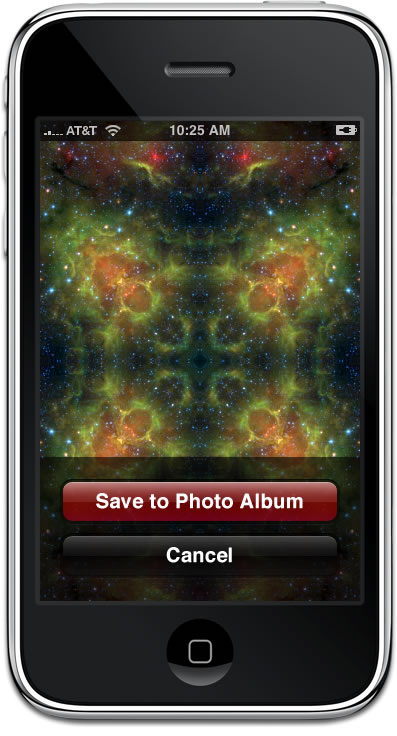 Getting Kaleido

Kaleido is available at the iTunes App Store for $1.99. Click the icon below to go to the iTunes App Store and view the Kaleido product listing.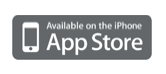 Works on any iPhone or iPod Touch with iPhone OS 2.0 or later. Camera feature requires an iPhone.




Support / Contact Info

Address all enquiries to: dev@hunter.pairsite.com. Feedback, comments, and suggestions are welcome. If you have an idea for a new feature, please pass it on!


Release History

Version 1.2 - 11/30/08
- Active image saved on quit and used as default image on next launch

Version 1.1 - 9/10/08
- Camera pictures are now saved to the photo album
- Three new demo images (flowers, nebula, smoke)
- Added 8-way symmetry pattern in addition to 4-way
- New movie mode to animate kaleidoscope
- Switched rendering to OpenGL for significant improvement in speed, responsiveness, and smoothness

Version 1.0 - 8/22/08
- Initial public release