About Flow
Getting Flow
Support / Contact Info
Release History
Home

Flow is a handy fluid dynamics app for the iPhone and iPod Touch. The software implements 1D compressible flow equations, normal and oblique shock relations, laminar and turbulent flat plate boundary layer development, standard atmospehere modeling, and the gas properties of air at sea level. Flow is a great tool for aerospace engineers, mechanical engineers, students, and anyone else working in fluid dynamics.




1D Compressible Flow Equations





Shock Relations





Incompressible Flat Plate Boundary Layer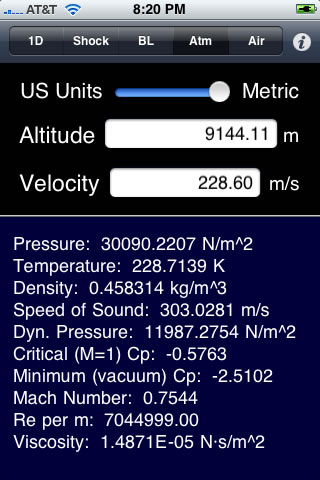 1976 US Standard Atmosphere





Gas Properties of Air at Sea Level




Getting Flow

Flow is available at the iTunes App Store for $4.99. Click the icon below to go to the iTunes App Store and view the Flow product listing.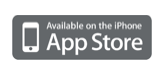 Works on any iPhone or iPod Touch with iPhone OS 2.0 or later

Nomenclature used in Flow
M
Mach Number
p
Pressure
T
Temperature
a
Speed of Sound
ρ
Density
A
Area
cp
Specific Heat at Constant Pressure
cv
Specific Heat at Constant Volume
γ
Specific Heat Ratio
β
Shock Angle
θ
Wedge Angle
Re
Reynolds Number
Cp
Pressure Coefficient
x
Distance along Flat Plate

L
Flat Plate Length

δ
Boundary Layer Thickness

δ1
Boundary Layer Displacement Thickness

δ2
Boundary Layer Momentum Thickness

Cf
Skin Friction Coefficient



For the variables M, p, T, a ρ, and A, subscript 0 denotes stagnation, 1 denotes upstream of shock, 2 denotes downstream of shock, and * denotes sonic.



Support / Contact Info

Address all enquiries to: dev@hunter.pairsite.com. Feedback, comments, and suggestions are welcome. If you have an idea for a new feature that should be added to Flow, please pass it on!


Release History

Version 1.0.1 - 11/5/08
- Bug fixes in data entry and display

Version 1.0 - 8/7/08
- Initial public release